The Self-hosted Project Management and Collaboration tool
serves totally on your local network
Avail all the gains of Output Time behind your firewall
Feasible with Windows and Linux
Start your 30-day Free Trial now
Output Time is available as On-Premises (Self-hosted) and SaaS (Cloud) versions to accomplish your business needs.
You can get best in class support for both versions
Your Server, Your Control
Output Time On-Premises version provides you full control over installation, data privacy and security.
It is suitable to any size businesses.
Advantages of On-Premises Output Time version
Self-Hosted version helps to have your own software on your domain
On-Premises version has no limitations on Users, Clients, Tasks and Projects
Private Cloud lets you to avail all services on your local network
As it is On-Premises, no third-party users can access your data
The process will be Fast and Secure as Self-Hosted
The software is at On-Premises so, you can get more control
As it is Self-Hosted, you do not need to rely on an Internet connection
On-Premises version benefits you to pay once and avail the features for lifetime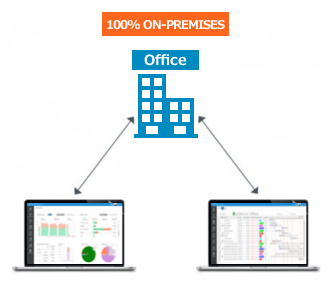 System Requirements
Hardware

Modern Processor
HDD : 1GB free space
RAM : 1 GB or greater
Network Connection with internet access
Software

OS : Windows XP or greater / Linux
Full administrator Access
Apache >= 2.4.7
PHP >= 5.5.1
MySQL >= 5.6.12
Collaborate and Manage your business Smarter!
Output Time for Windows Standalone Server
Start your 30-day Free Trial now
No web server required
Unzip the download package & run Output Time Server Manager
Open OutputTime in your browser (http://localhost:8123)
Output Time Web App
Start your 30-day Free Trial now
Required Apache,MySQL, PHP 5
Unzip the web-app package to webserver
Open OutputTime in your browser (http://localhost/outputtime)