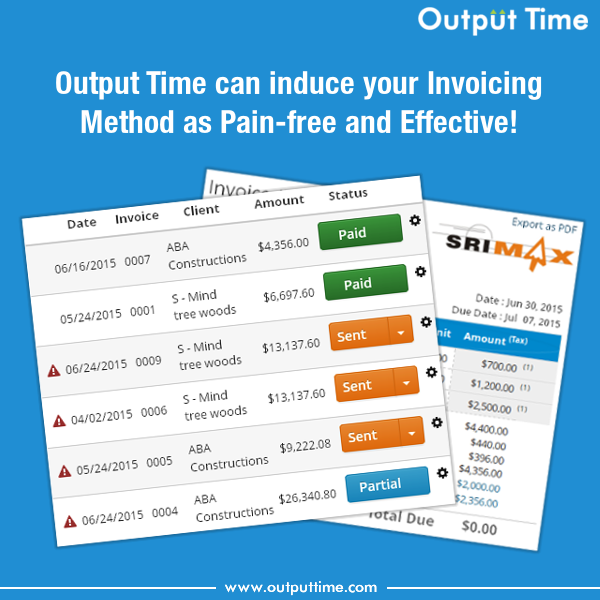 Running a business may be an easy task but the art of being paid is somewhat a risky fact. Your business will be productive only after getting your money in your account for the product/service you sell. To get your money, you can use invoice. Invoice is the tool you can use to ask for money that you're owed. It is a process of stating your products/services, its quantity, unit amount, net amount and discount and VAT services (if applicable) to your clients and ask for payment within a due date.
1. Know your Customer (KYC)
Have a clear map of your clients who are responsible for billing process and build a friendly relationship with them. Be sure to have their contact and e-mail addresses. Even a small change in any of these addresses should be intimated to you.
2. Maintain Accurate Records
You must have a timely record on all the works you have done. Have evidence for all the works done in time management basis. Also track all the expenses of each client.
You can prefer time-tracking software for that. The Output Time is the amazing one which has options for splitting billable and non-billable hours.
3. Build a Clear, Correct invoice
While creating invoice, make sure about the information to be produced to the clients is understandable. Give them all needed information such as unit item cost, total items sold, sub-total, Discounts, relevant taxes and their grand total etc.
4. Schedule to Send
You have to send the invoices as soon as the product/service is delivered. Delayed invoice may lead to delayed payment. For that you can schedule the sending period to follow a timely manner. Make your invoicing as a professional one by sending it on a specific date, so that clients will have it in their mind about your payment regularly. For that you can set recurring invoices with same date on each month.
5 . Provide Payment method
Explain how to pay, right on the invoice. You can give your bank details, PayPal details, and your physical address. You can provide these details either the payment is online or offline.
6. Propose deductions for early settlement
Offer them the early settlement bonus, as all will try to use this discounts, instead of paying it as a whole. This will surely help you to have early payment. If you wish, you can also offer interest for late payment.
7. Have an intimation System
You may deal with many invoices, even many invoices to a particular company. In such cases, you may confuse with many invoices and may happen to forget the payments. In order to avoid such confusions, you may have alert systems, to intimate the invoices whose due dates are exceeded. This will help you to get back your money at right time.
8. Payment Query
Send your invoice as soon as your product/service are delivered. Also call the clients if need, and ask them about their payment politely.
9. Backup your invoices
As invoices are essential aspects in financial area, it is must to have a record of all the invoices. Track all the invoices that are sent, partially-paid and paid. It will be helpful in tax payment. To track your entire invoices, have a unique numbering system so that the invoice numbers doesn't overlap.
10. Make use of the blank space
You can include statements such as thanking for their trade with you. Also you can make use of these spaces, to introduce you new marketing plans or release of new products/services. You can also include your terms of use and privacy policy.
Advantages of having digital invoicing
Increases the Accuracy.
Reduces cost of Invoicing.
Saves your time.
Speeds the Process.
Faster Dispute Resolution.
Easily Customizable.
Improves the cash flow visibility.
To have all these facilities, you can have automated invoicing method like Output Time. With Output Time, you can create professional invoices, where you can customize your invoice with your themes, logos and color. It will simplify and automate your works as well as save your time. Also this software bundles Time Tracking and Project Management too with Invoicing.